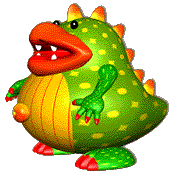 "Try to dodge my bouncing blubber. Just don't hit my lip of rubber."
—Don Bongo, Yoshi's Story
Don Bongo is the boss of the end of the stage 3-4 in Yoshi's Story. He mildly resembles a Clubba except he has yellow-spotted skin, a yellow stomach with orange stripes and a big yellow & orange bellybutton. Yoshi has to hit him in the lips three times with his eggs to defeat him. Yoshi doesn't get hurt if he bumps into him.